UTB Hot Pick
#HotPick From #UnleashTheBeat Mixshow 120 "Two Souls" (James Rigby Remix) by JES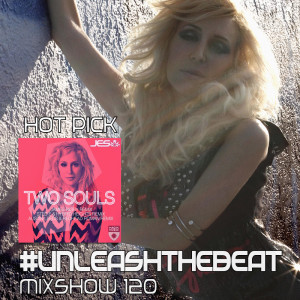 Proving that you can never have enough of a good thing dance music legend JES
unleashes not one but two remix packages for her recent emotive Beatport Trance
top 5 single "Two Souls". Whereas the original mix focused on the progressive sound
of Trance the official remixes take the song into some very different territories.
Package one is released on March 2nd and features mixes that encompass trance and
progressive genres. Opening with a mix from James Rigby, one of the UK's newest rising
stars. James Pushes the song deeper towards its trance roots. Gushing layered synths
and a bouncy hard trance beat make for a mix that is sure to please trance purists and
main room regulars alike. New York beat guru's Sted – E and Hybrid Heights find a grittier
side to "Two Souls" with an electro house influenced progressive mix. Combining a
hypnotic riff with an intense beat the duo perfectly complement the depth of the vocals
with a peak time crowd pleaser that will comfortably bridge the great progressive / electro
divide. Austin Leeds, a true Progressive music titan teams up with Czech production wizard
Redhead Roman for a hard EDM tinged mix that will surprise and excite. A grimy filtered bass
leads the mix with angular synth stabs and effected vocals in a track that is a non stop energy spiking
roller coaster.