Interviews
Artist Interview: Tonski & JMA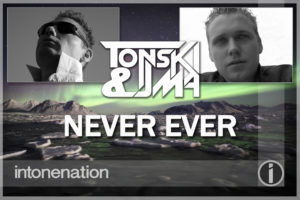 Following up their recent European hit "Move On" with Jonny Rose, Belgian Brothers Tonski & JMA reload with the massive progressive house anthem "Never Ever" recently released on Intonenation Records. The #UTB team caught up with the duo to discuss their latest Progressive House banger and what is next for the pair.

1. How did you guys meet and start working together ?
Being brothers we've know each other our whole lives. We were both always very passionate about music and started working together as teenagers with a second hand Atari 1040 and an EMU sound module in our bedroom studio !
2. What inspired you to start making music in the first place ?
In our early teens we were both huge fans of the "New Beat" scene which engulfed Belgium and became the most popular sound of the time. Over time "New Beat" morphed into the U.S House music movement which then introduced Techno and Trance as well. We stayed with the dance scene through all the developments to where we are today.
3. If you could collaborate with any artist who would you pick and why?
If we had to only pick one it would have to be Moby. His music breathes emotion and he can express that in so many different styles. For us Moby's music always has an unmistakable hallmark of quality on it. We also love the sound of other progressive and house producers as well like Eric Prydz, Deadmau5, Mark Knight and Arno Cost and working with any of them would be amazing.
4. Can you describe your sound and what are some of your favorite electronic artists?
We've always loved progressive house but there are a lot of different sounds in that genre today. All too often what is labeled as progressive house can be dark, monotonous and uneventful music. We strive to make uplifting and accessible songs with memorable themes and quality production which is not too heavily influenced by the fashions of the mainstream EDM scenes.
5. "Never Ever" is a great track, what inspired the song and how did you approach making it together?
"Never Ever" is a track that we had on the shelf for a long time. It has such a strong hook that it would have been a shame never to finish it! When we went back to it after such a long time all it needed was to re-polish those classic sounds and add some current FX and sound design to bring it up to date!
6. What's next for Tonski and JMA? 
We try to maintain our musical ideals and focus on making the best music we can. The dance music business has now become an international scene. We would love to be recognized for developing our own style and sound and continue getting that message over to as many people as possible.